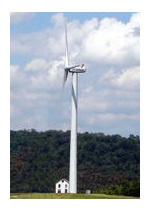 Green Mountain
Wind Farm
Somerset County,
Pennsylvania
PROJECT STATS
Developer:
DISGEN Project Size:
10.4 megawatts (MW) Customer:
GreenMountain.com Austin, TX Owner/Operator:
American National Wind Power (ANWP) Construction:
BCL & Associates, Desert Hot Springs, CA Environmental Assessment:
Curry & Kerlinger, LLC., McLean, PA

The Pennsylvania Wind Farm was the first utility scale wind energy generation facility in Pennsylvania. It was developed by DISGEN under a joint development agreement with GreenMountain.com and was commissioned in May 2000.

American National Wind Power (ANWP), a wholly owned subsidiary of National Wind Power, a United Kingdom Company, joined the development activity as owner and operator in mid 1999. GreenMountain.com purchased the energy from ANWP under a long-term power purchase agreement. The project, comprised of eight (8) Nordex 1.3 megawatt (1.3 MW) wind turbines, is deployed partially on reclaimed land, previously strip mined for coal. Each turbine has a sixty (60) meter tower, for a total height of approximately three hundred (300) feet. The project is interconnected through a substation owned by Somerset REC, to a 115 kV transmission line owned by General Public Utilities.