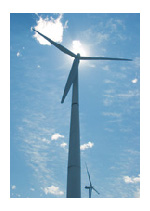 Ponnequin Wind Facility
Colorado
PROJECT STATS
Developer:
DISGEN Project Size:
16 megawatts (MW) Customer:
Public Service Company of Colorado Owner/Operator:
Energy Unlimited, Inc. Financing:
Adven Systems, LLC Construction:
Site Constructors, Inc. Commercial Operation: November 14, 1998

The Ponnequin Wind Facility was developed under a cooperative agreement between Distributed Generations Systems, Inc. (DISGEN) and Public Service Company of Colorado (PSC). The project size is 16 MW.

Phase One is a five megawatt (5 MW) facility comprised of seven (7) NEG/MICON 750 kW wind turbines. Ponnequin is interconnected, through a substation owned by PSC, to a Western Area Power Administration (WAPA) 115 kilovolt (115 kV) transmission line. PSC aquires the energy under a long-term power purchase agreement in support of their WINDSOURCE™ Green Pricing Program.